FAQ
Frequently Asked Questions


What is the difference between a modular home and a manufactured home?
Modular Homes
Modular homes are built in sections at a manufacturing facility. They are built to conform to all state, local or regional building codes at their destinations. Sections are transported to the building site on steel carriers, craned to foundation and joined together by our own crew. Modular homes are less expensive per square foot than site built houses. A well-built modular home will have the same longevity as its site-built counterpart, increasing in value over time.
Manufactured Homes
Formerly referred to as mobile homes, but with many more style options than in the past. Manufactured houses are built in a factory. They conform to a Federal building code, called the HUD code, rather than to building codes at their destinations. Manufactured homes are built on a non-removable steel chassis. Sections are transported to the building site on their own wheels. Multi-part manufactured units (double-wides) are joined at their destination. Manufactured housing is less expensive than site built and modular homes.
What are the advantages to buying a factory-built house?
•    Building in a factory is more cost effective due to efficient production techniques and the large quantity of materials purchased, factory-built housing is less expensive than its site-built counterpart. Using the same quality materials that are found in site-built housing, there is no better housing choice. Dollar for dollar, you get more house with more features in a factory-built home than in a site-built home.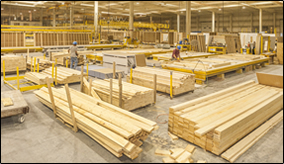 •    A factory is a climate-controlled setting.  Have you ever passed a home under construction when it is raining or snowing? Lumber and other interior parts are exposed to the elements. Factory-built homes are constructed in a protected environment. The controlled conditions inside a factory account for the precise nature of a factory-built home. All homes are built on construction jigs on the level floors of a factory to ensure every wall is square, plumb and ready for final assembly on your building site. A factory setting also significantly cuts down on theft. Have you ever read a story in the newspaper about the building site getting robbed of materials? It happens quite often and the consumer ends up paying the price.

•    Quantity purchasing.  This means savings even large-scale site builders who buy a large volume of materials, can never match the buying power of a factory. Site-built home builders purchase lumber, plumbing and electrical equipment by the truckload to handle their local needs. A factory-built home builder, on the other hand, builds for entire regions of the country, so purchases can be made in trainload volume. The bigger the volume of materials, the better the savings that are passed to you, the customer.

•    Better quality-control. A site-built home is built under the watchful eye of the local building inspector and whatever supervision, if any, is on the job site. Most local building inspectors and builders do a commendable job of overseeing projects, but nothing near the requirements that factory builders must meet. Factory-build homes are built according to federal or state laws and codes, which mandate high quality-control measures that assure your home is constructed properly.
Are modular homes energy efficient?
Yes. Modular homes are very energy efficient. Most are built to meet and exceed the ENERGY STAR® codes with their building methods and materials. By using 2" x 6" exterior wall construction with R-21 insulation, R-38 blown-in ceiling insulation, warm edge thermopane low-e glass windows, and insulated exterior doors to mention a few things. Your house will be warm in the winter and cool throughout the summer.  Click here to learn more today ENERGY STAR®.
I hear a lot about Green Building. Are modular homes "green?"

Green building is a practice of using sustainable materials and designs in new construction. Yes, modular homes are by their very nature green. Assembly in an enclosed indoor environment minimizes waste material at the factory and at the job site, lessens the environmental impact on the land and the community where the house is being delivered, and allows for a tightly built structure to maximize energy efficiency - all of which are key components to green building standards. For more information, visit www.nahb.org/greenbuilding.
Could the average site-built home travel behind a truck at 60+ miles per hour?
The answer is no. However, a system-built home is built with up to 30% more fastening materials, making it extremely durable, even during transportation.
How long is the building process?
The overall process takes generally about 3 ˝ - 4 months. We can have your house built and delivered in 6-8 weeks from time of order depending on the time of year. You will find that the most time consuming aspect will be spent on preliminary approvals, site work and final approvals.
Can I customize my own house?
Yes you can customize an existing modular floor plan subject to factory approvals.  If you sat at home and sketched a floor plan bring it to us and we'll see how close we can build it if not exact!  Manufactured homes can be customized but they are built to the Federal HUD code, which makes them less customizable but yet some still can be done.
How far do you travel to build a home?
We include up to 30 miles from our office in our standard home prices; 30-35+ miles will be an extra surcharge due to distance/time traveled.  Feel free to call and to discuss your delivery area with us.
How do I finance a modular home?
Mortgage lenders treat modular homes the same as site-built homes and offer the same mortgage options. Modular homes are also treated the same as site-built homes when it comes to appraisals and insurance. In addition, modular homes appreciate in value at the same rate as comparable site built homes in your area. You are welcome to obtain your own financing - Becker Homes will be happy to work with your financial institution or one that we have worked with in the past.
Do I need an appointment to look at the houses?
No, you do not need an appointment to view our homes. Please stop in at our sales office and you will be shown which homes are open for you to walk through at your leisure. We have sales associates on the premises to answer any questions that you may have. If you need to sit down and talk to a sales associate, please feel free to contact us and schedule an appointment.